Blog
Update
Unpack your sample packs. You can upload your sample packs to youbeats.net from November 1st, 2020 and offer them for sale. The following file formats will then be available:
WAV 24BIT
AIF 24BIT
Soft Synth Presets
MIDI
Acid
REX
Ableton Live!
Apple Loops
Reason Refills
Exs24
Kontakt
Fruity Loops/ FL Studio
Read More


---
Update
Some small fixes and improvements were carried out:
1. Our social bar on the right side has been fixed. We would appreciate feedback & subscriptions on our YouTube page. In the near future, we would also like to create Non Monetized Videos for Free Beats on our YouTube page and offer the Beat file as a download, which should be considered as an advertisement for you as well as for us. If you are interested, you can send us ...
Read More
---
Licenses
After a very long programming time, it is finally done. The update for the license system is installed. We wanted to offer something again, which has no other Beat Page. Therefore, we have now programmed two licensing systems. By default, a beat is uploaded in the Licenses Standard Lease, Professional Lease and/or Exclusive in the YOUBEATS license system. Thus the license rights of YOUBEATS for each beat are displayed for the be ...
Read More
---
The time has come. The Flash Player is replaced for the most part of our site with a HTML5 Player. You can then listen beats on the go from your smartphone or tablet. First the most important player are replaced. Over time, the remaining. Denkt bei der Nutzung an euren Datenvolumen, da eine Hörprobe ~2MB beanspruchen wird.
On the desktop, the player will play automatically. On smartphones and tablets you have to click Play.
In a short video you the new players are intr ...
Read More
---
Immediately the previews will be created with a length of 2:30 minutes automatically by our system. Your already uploaded beats are still created with a preview length of 1:45 minutes. Do you want to change this to 2:30 minutes? That's how it's done:
Click on Edit Beat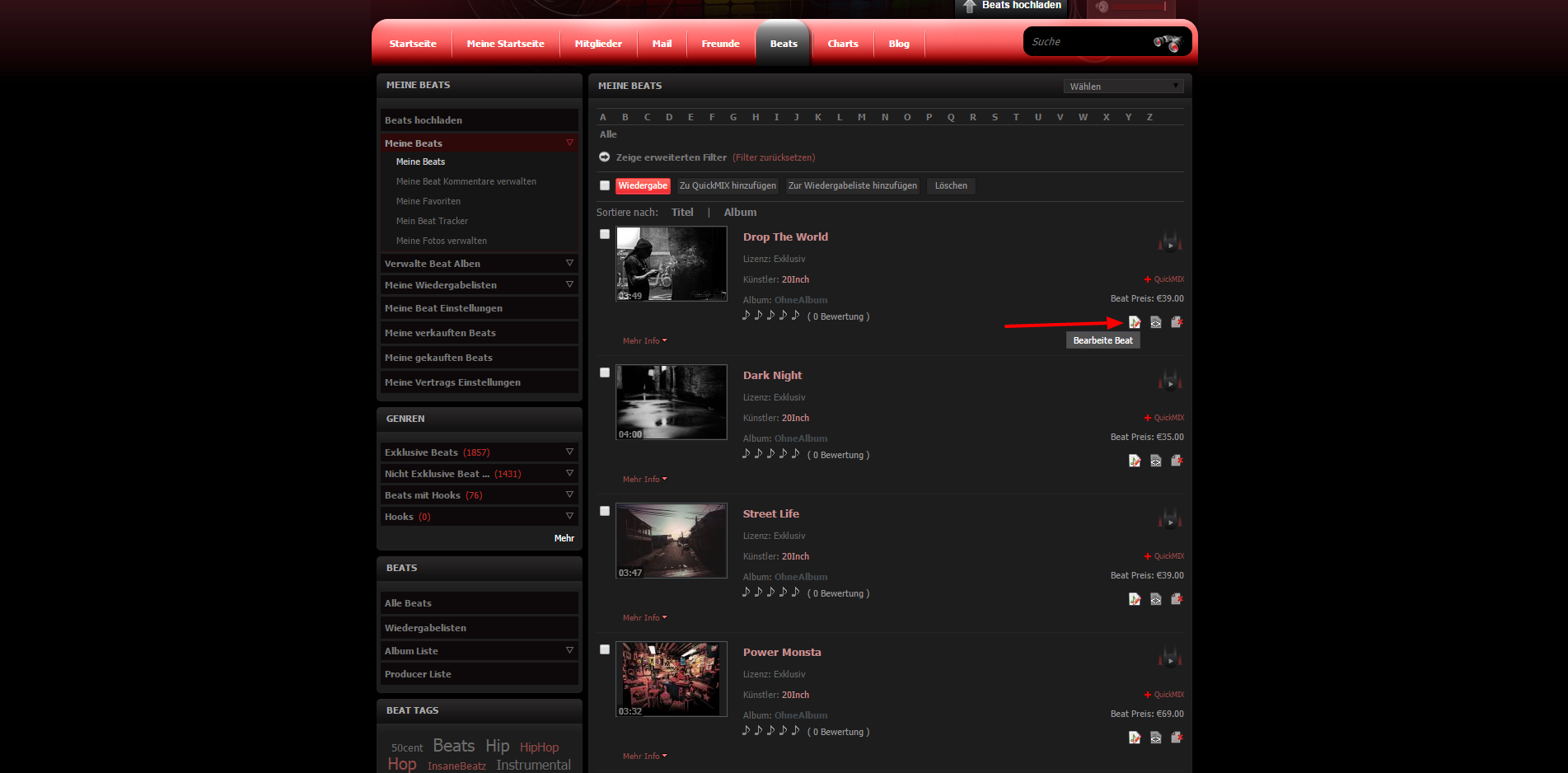 Scroll to ...
Read More
---
In general every producer wants provide his self-produced beat with his own voice tag, firstly, to advertise themselves and secondly to protect his composition.
On our side it is not allowed to upload a beat, which is voice tagged, because our system will mix the youbeats voice tag in your Beat while uploading. You have to upload your beats already arranged, like how the buyer can download the beat after a purchase. Once you confirm the upload form, it takes place an internal process ...
Read More
---